A common skin condition that often begins in adolescence, acne can impact people well into adulthood and is caused when the pores in your skin are clogged with naturally occurring oil called sebum. The severity of acne, which can stay below the skin or protrude through the skin's surface, is often characterized as mild, moderate or severe. For those with severe conditions, deep lesions may develop which are often inflamed and painful. When not treated, they can result in scarring.
​
Note: If you are unsure of a particular treatment option, we offer free consultation appointments. Call us at 403-252-4410 to book.
There is a wide range of treatment options for acne and the related scarring that can develop. In all cases, the treatment needs to be given enough time to work. To maintain success following treatment, it is recommended to be gentle when cleaning your skin, avoid picking at blemishes and carefully choose your cosmetics.
DiamondTome™ Skin Resurfacing System
---
Resurfacing is a technique for removing the topmost layer of skin leaving it supple and vibrant. The DiamondTome™ wand removes this layer of skin by gently exfoliating the skin with natural diamond chips, while at the same time vacuuming the dead skin cells away in a sterile and controlled manner. Removing this outer layer of dead skin cells leaves a smoother texture and promotes the growth of healthy new skin cells.
---
IPL Photorejuvenation
---
Short for intense, pulsed light, this non-invasive treatment improves the appearance of photo-aged skin, removes age spots, benign brown pigments and redness caused by broken capillaries.
---
Fractora by Inmode
---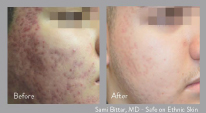 Fractora uses a bipolar RF (radio frequency), which applies two closely positioned electrodes to a treated area. The electric current travels from one electrode through the tissue and back up to the other electrode. The result is that the tissue in the treated area is heated less deeply and intensely than with a monopolar or unipolar device.
---
---